Ed Force One > Iron Maiden Flight 666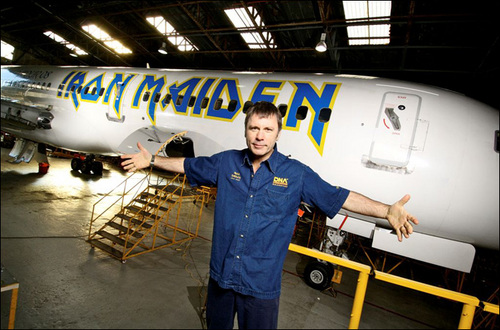 Update at bottom - Sept 2015
I am watching the new Iron Maiden rockumentary, Flight 666. It's awesome. Let's start with the disc set itself. It's onsale at present at Best Buy and Amazon for $12. I chose Best Buy, so I wouldn't have to wait in the mail, nor pay shipping. The Blu Ray Dvd set is laid out beautifully. It is a booklet style set. It opens to a beautiful and detailed 23 page booklet and two discs. The first one is the movie documentary (video), and the second is a live concert set from said tour (audio only). I
serious
value for $12.
In the states, the movie was played on VH1 before it was released. I didn't want to watch it censored, cut up, and broadcast in mere stereo. I want the full Maiden experience, so I held out until today for the proper release. A wise decision.
The movie is the story of legendary British band Iron Maiden's most recent world tour. They were on a greatest hits tour to celebrate 25 years since 'Somewhere in Time'.
I was at that tour, too
. To be fair,
every
Maiden show I have seen (and it's a bunch) have all been 'greatest hits'.*** They never disappoint live, and have only gotten better. They are one of the most important, and still relevant bands still operating. This is why, after more than 30 years in the business, they are still filling soccer and football stadiums.
Here is a clip from the film, and one of my favorite songs.
What makes the movie, then? Well, there has never been proper Iron Maiden documentary. Now, if you are hardcore, you know the feature-ettes of the last two Maiden DVDs
'Early Years'
and 'Live After Death'. Those were more a cursory look at all the zillions of people who have been in the band before they got famous. The line up since then has been pretty steady for the last 20 years. This film is more about 'a day in the life' sort of perspective. What is it to hang out with these guys and have this as your day job.
It is a story about the band on tour, but it is also the story of the plane, hence the great title and
AMAZING art
from
Riggs
again. Many great bands have chartered their own jets, it just becomes practical. Historically, the band would hang out in the nice plane, and be at the next city and in bed within two hours of the houselights coming up. HOWEVER, the roadies and engineers and such were stuck driving from city to city. Dickinson the logistical problems, and was inspired. This isn't a jet for banging groupies. It's an in air tour bus, and that is groundbreakingly clever, if you ask me.
Like
Zeppelin
, and not many others, they have chartered their own jumbo jet for the tour. It gets better. Way better. First off, the plane is badged all over with Iron Maiden iconography. See
here
. Second > it's called '
Ed Force One
'. Third > the pilot is the band's lead singer Bruce Dickinson. Yes, it is good to be Maiden. The documentary is peppered with live material from nearly each stop. This live material is what comprises the second disc of just live concert material.
To me, the live material is hit and miss until you get to 'Number of the Beast' at the LA Forum. That song demonstrates well how beautiful and powerful and fucking awesome they are live. The movie as a story about the band was also done incredibly well. My wife came in at the beginning when I started watching it and she sad through the whole thing. She said something wonderful like 'my god, I hate this shitty music you listen to, where every songs sounds the same. That was a really cool story, though. You can tell these guys go deeper." Shit, she should be band publicist with that kind of clarity.
The film was played around the world in movie theaters back in April. For some reason, it didn't play in America. You know, if it had, though, it would have cost $10 a ticket. Now, for $12, you own the whole experience... and and extra concert disc. A good investment. Here is a pic of the plane in question. This is not photoshopped.
Up the Irons!
update Sept 2015 >
official news right from the band.
They bought a bigger plane, and they are headed out to do it all over again!
*** editors note on the 'every tour is greatest hits'... this statement is not incorrect. I read years ago the band will only do 'greatest hits' tours every other album. Understandably, just playing the 'hits' likely gets tiring. I have now seen this in action. When I saw them on the
'Final Frontier' tour
, it was about 90% new, and maybe three classics. The
tour after that
(I guess about two summers ago) was back to greatest hits.